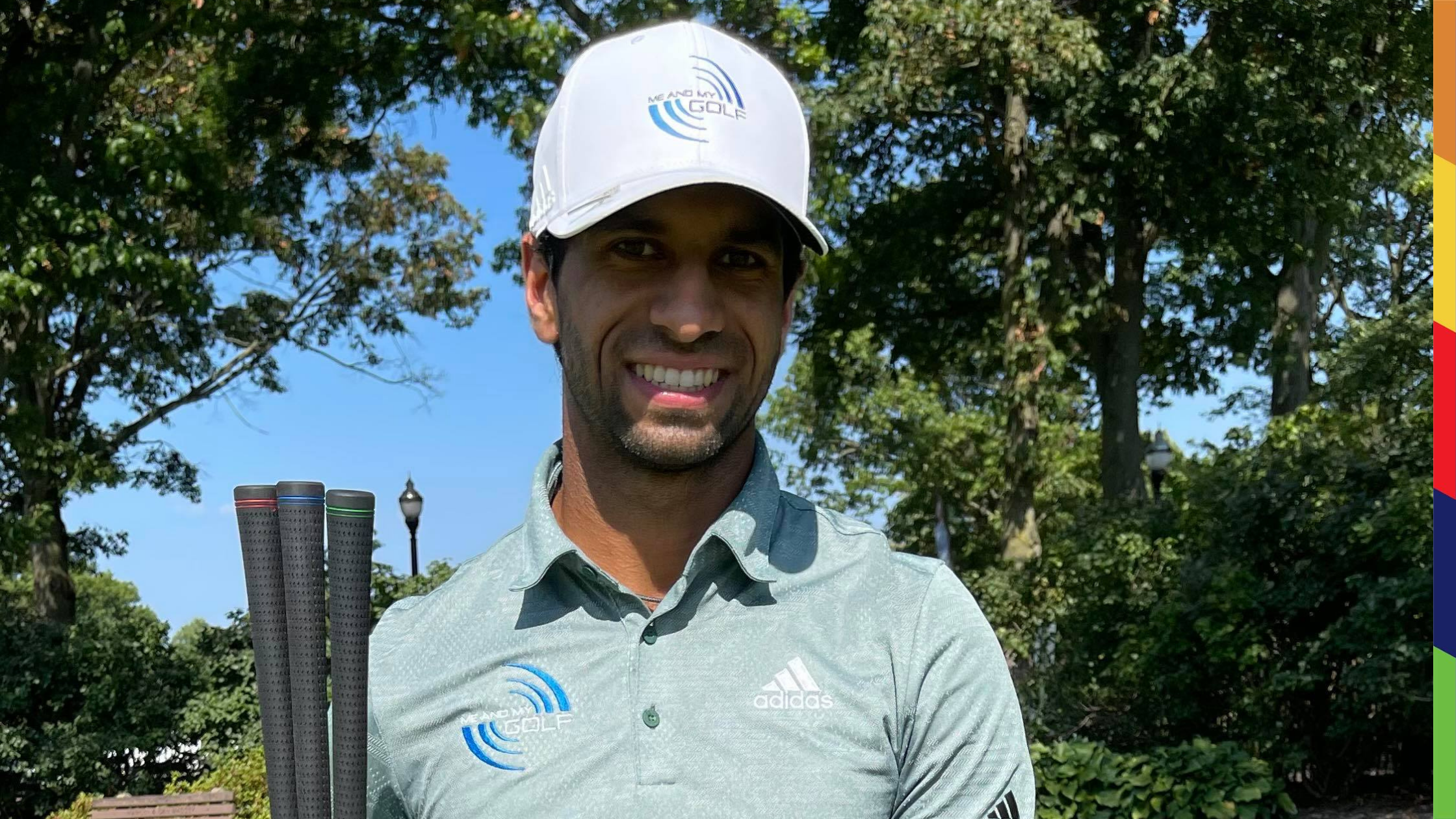 How a PGA Tour player gained 20 yards
Hi, it's Piers Ward from Me and My Golf. I wanted to share with you how we've made some serious gains with European Tour winner and new PGA Tour pro Aaron Rai's driving distance stats over the last three years by focusing on three main areas.
We first improved Aaron's physical strength and conditioning in the gym. We then changed Aaron's intention when hitting the ball while also exploring different ball flights. Finally, we added in speed training using SuperSpeed Golf.
We at Me and My Golf have been working with Aaron since he was 10 years of age. He has always been an amazingly accurate player but was never a powerful hitter rarely achieving 300 yard drives. We had periodically worked on distance gains but it was always difficult to fully commit to this as Aaron's "Super Power" is accuracy. Due to this perceived advantage, he didn't want to compromise how straight he hit it off the tee by chasing more speed. The turning point came when Aaron began playing in top tier professional events and saw how much his lack of distance put him at a disadvantage. Aaron has been in the Top 5 for fairways hit since he started on the European Tour in 2017 but never cracked the top 100 for driving distance. He was also in the top 10 of greens in regulation (other than his first year 18th) but his proximity to the hole was too low. Through analyzing his stats which showed where he was losing strokes compared to the field, Aaron agreed in 2018 to make the commitment to distance knowing the gains would help significantly.
Andy Caldwell, head of Aaron's fitness regimen, shared what their program entailed.
"One of our key aims when we conducted season review for Aaron was to improve his club head speed which we have managed to achieve through strength and speed training that has been specifically programmed and periodized.
We first worked toward building robust and efficient movement patterns globally and developed a system that can tolerate the cumulative and peak acceleration and deceleration loading forces required for the rigors of professional golf. This not only reduces injury risk but also provides the movement quality and strength foundations upon which to base speed training.
The neural system is capable of rapid adaptive change to training stimulus more so than the musculoskeletal system and this always has to be respected in any form of speed training. It is the neural system that discharges the signal for the musculoskeletal system to produce force.
With Aaron we aimed to enhance movement quality and build strength metrics through periodised strength and conditioning protocols. From here we then integrated speed training to optimise the outcomes he would gain from golf specific speed training.
In doing so we have not only attained a higher level of club head/ball speed making him more competitive at the tour level we have also exposed Aaron to higher levels of training load thus creating a more robust golf athlete.
Superspeed training aids are now part of his weekly routine of training, warm up and tournament preparation."
You will see since 2018 there have been significant increases in distance although improvements as we know do not always occur in a straight line. During the 2019 season, the distance dropped back due to changes in technique exploring new ball flights whilst also maintaining the superpower of accuracy.



Aaron now has an on-course cruising speed between 113 mph and 115 mph club head speed resulting in ranking in the top 20 of driving distance during various tournaments. This would not have been possible 5 years ago when his max on course speed was 109 mph. To continue Aaron's rise in the game, we're targeting 120 mph within the next 2 years.
To ensure we don't lose sight of Aaron's superior accuracy advantage, we have closely monitored his stats each tournament. We set the tipping point at when fairways hit drops below 60%. With this information we can make sure we best emphasize accuracy versus distance during his training. The only way we would accept fairways hit dropping below 60% would be if he achieved a 20 yard gain.
At the highest level, we as coaches are looking for any way to shave strokes off each round/tournament. We know that a 4 yard gain would equate to +0.25 strokes gained per round leading 1 gained shot gained per tournament assuming similar accuracy.
An advantage Aaron has is the ability to play pretty much every shot in the spectrum ranging from a low fade stinger to a high draw bomb and you wouldn't know which was his favourite! This ability allows us to always have a fail safe whilst his body is adapting to speed changes.
As the final piece to Aaron's gains, the SuperSpeed training resulted in what appeared to be an unusual phenomenon with his non-dominant swings. He achieved a top speed speed of 130 mph with the lightest SuperSpeed club swinging right handed and matched that speed on his left handed swings. Having spoken to the SuperSpeed Team it was interesting to hear why this happens.
"This is Perfectly normal! Right handed players swing with their left side being the lead side of the swing. The lead side is primarily responsible for stabilizing the rotational speed of the golf swing. Therefore, the stronger and more stable the lead side, the greater potential for swing speed. So, when a right handed player swings on the non-dominant side, their right side becomes the lead side of the swing. Typically the right side for a right handed player will be somewhat stronger and more stable. This produces the potential for more speed on this side. We see the phenomenon commonly with players who have been training with SuperSpeed for some time. As they become more efficient in sequencing the non-dominant side, they will commonly find that the speed on this side will increase up to and even above their dominant side max swing speed."
We couldn't be happier with the gains that Aaron has made and are very excited for the future of which SuperSpeed is very much a big part of.